1. 808nm: deep penetration of the hair follicle . 2. 755nm: ideal for the widest range of hair types and color- especially light-colored and thin hair. 3. 1064nm: darker skin types. treat deeply embedded hair in areas such as the scalp, arm pits and pubic areas.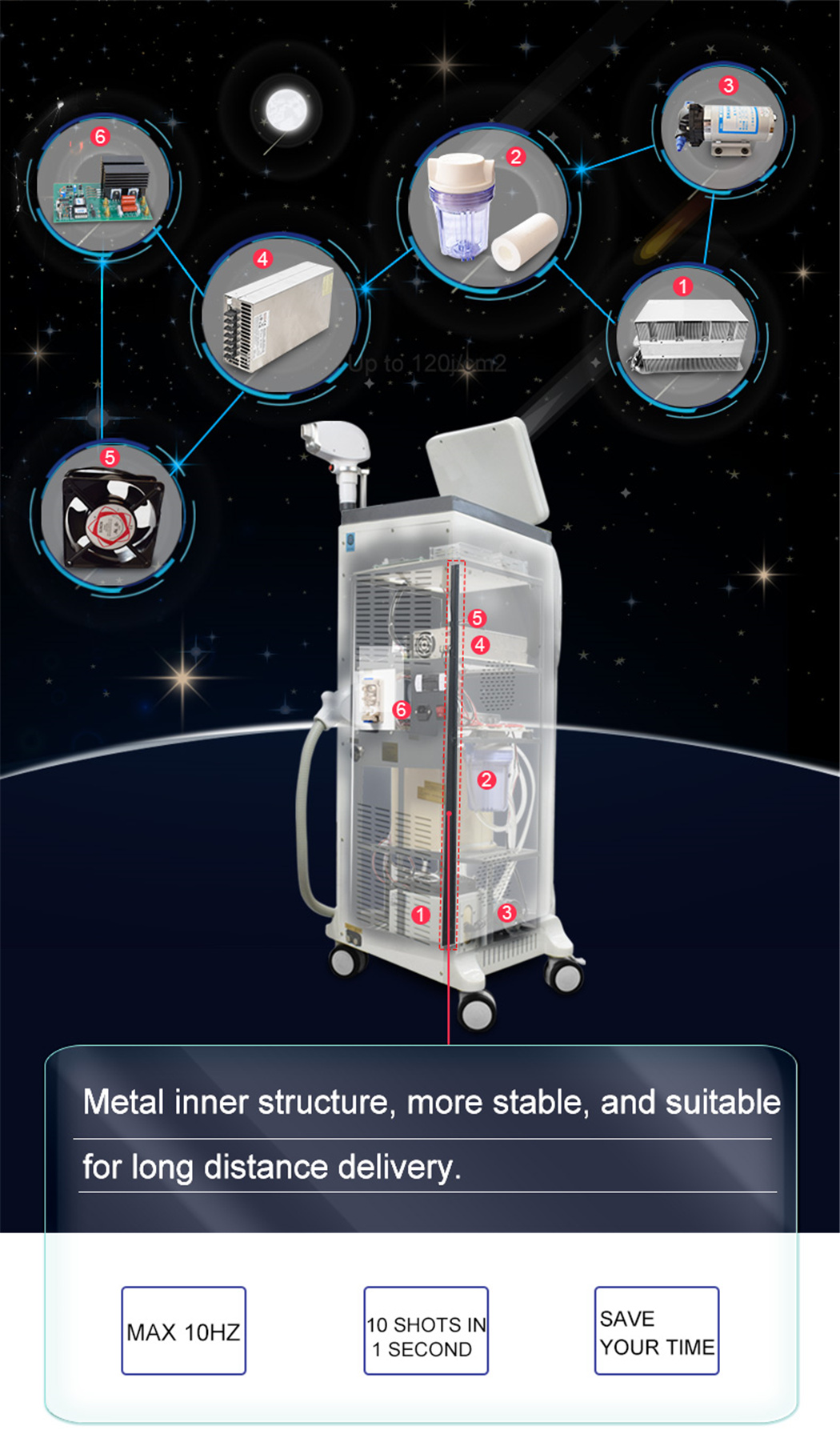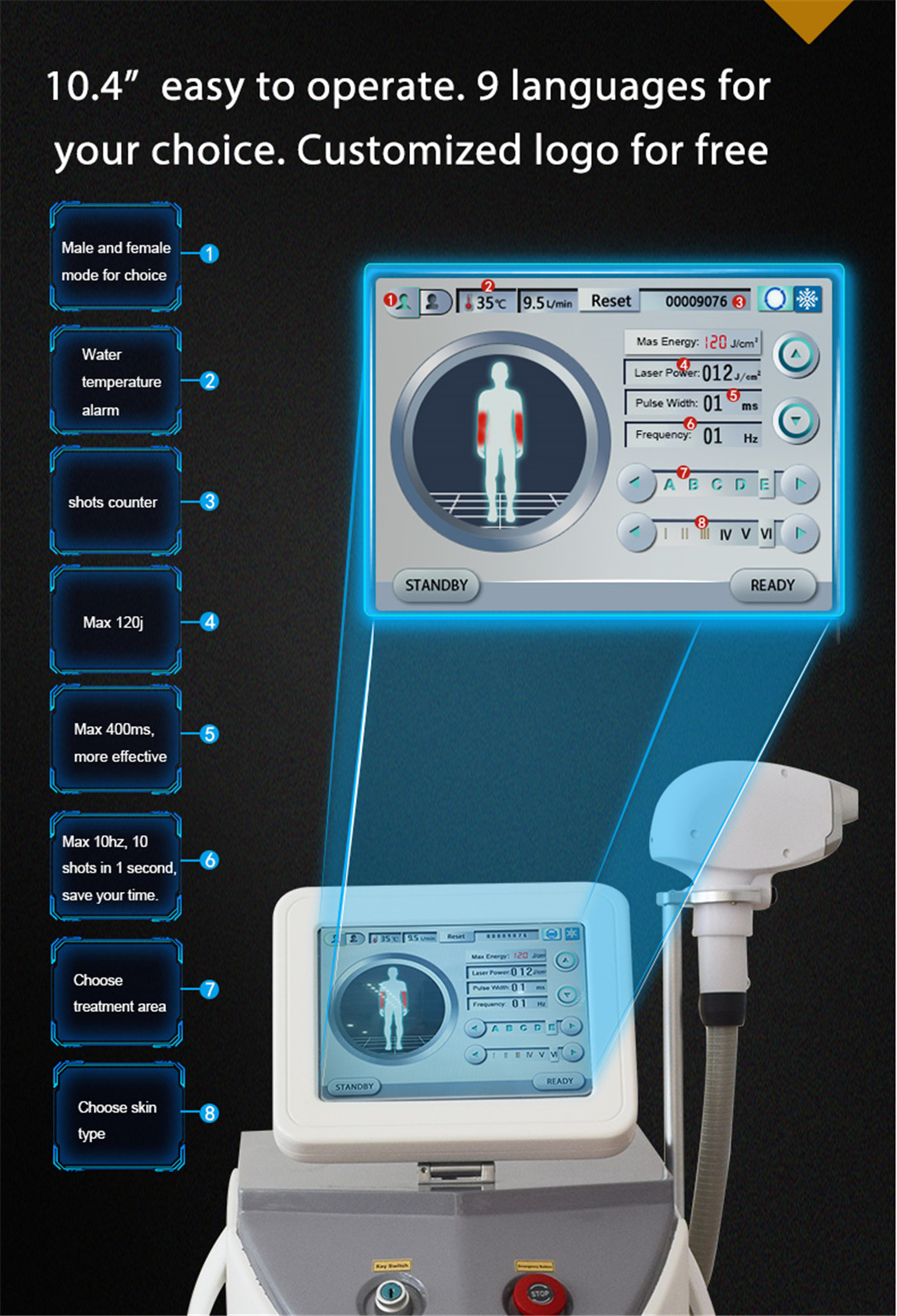 Q1.Is diode laser safe? A1: Diode laser 805 nm hair removal is safe and effective for mixed-race participants. However, to minimize the occurrence of side effects, it is necessary to adjust treatment settings – such as pulse duration and fluence – according to the individual skin reaction taking into account the patient's ethical history. Q2. Can I workout after diode laser? A2: Avoid shaving the treated area for 72 hours after treatment. Avoid exercising for at least 48 hours. Avoid hot baths and hot showers for 48 hours Q3.What can you not do after a diode laser? A3: Avoid very hot baths, showers, steam baths or saunas, and don't swim in strong chlorinated water for two or three days. Don't use bleaching creams or perfume products for 24 to 48 hours. Avoid exfoliating or peels for one week. Try to avoid wearing tight clothing for two or three days. Q4.What happens after diode laser hair removal? A4: The most common side effects of laser hair removal include: -Skin irritation. Temporary discomfort, redness and swelling are possible after laser hair removal. Any signs and symptoms typically disappear within several hours. -Pigment changes. Laser hair removal might darken or lighten the affected skin.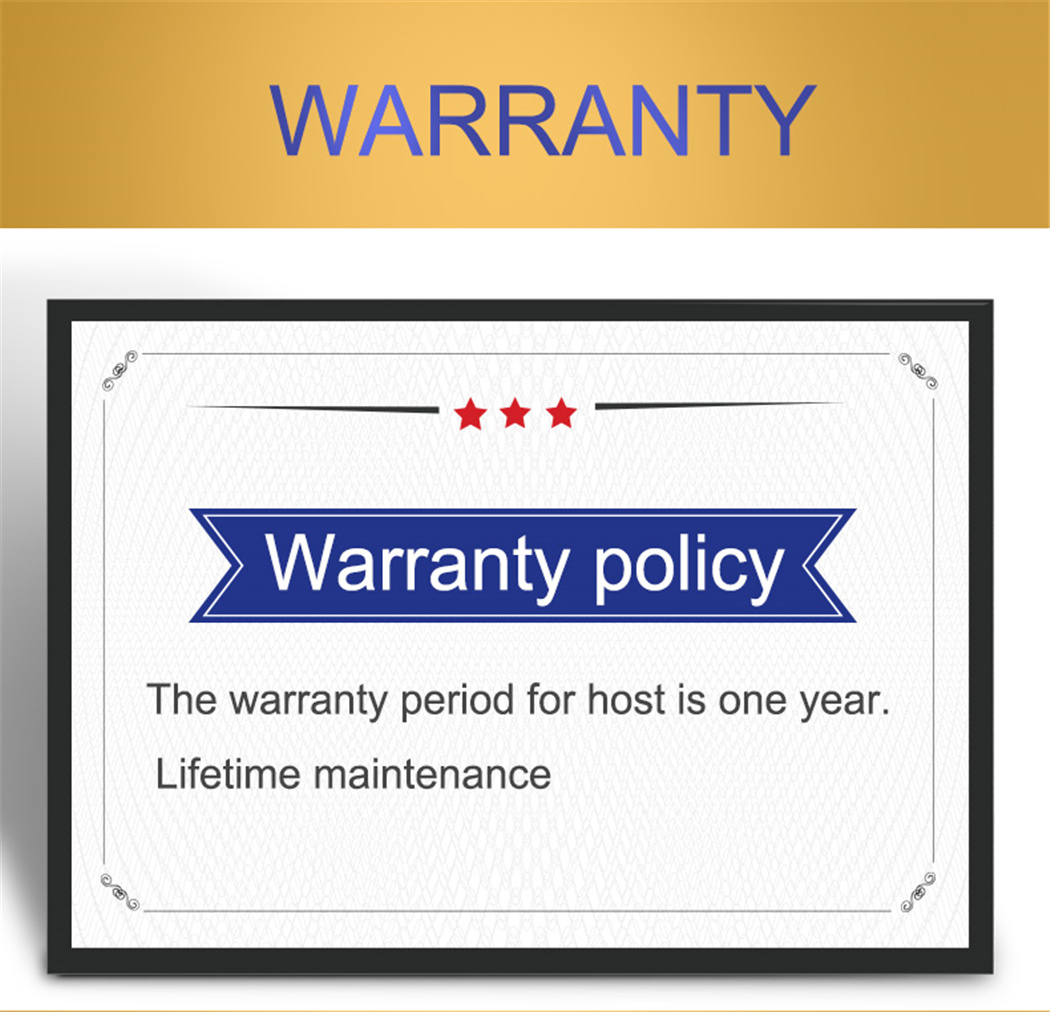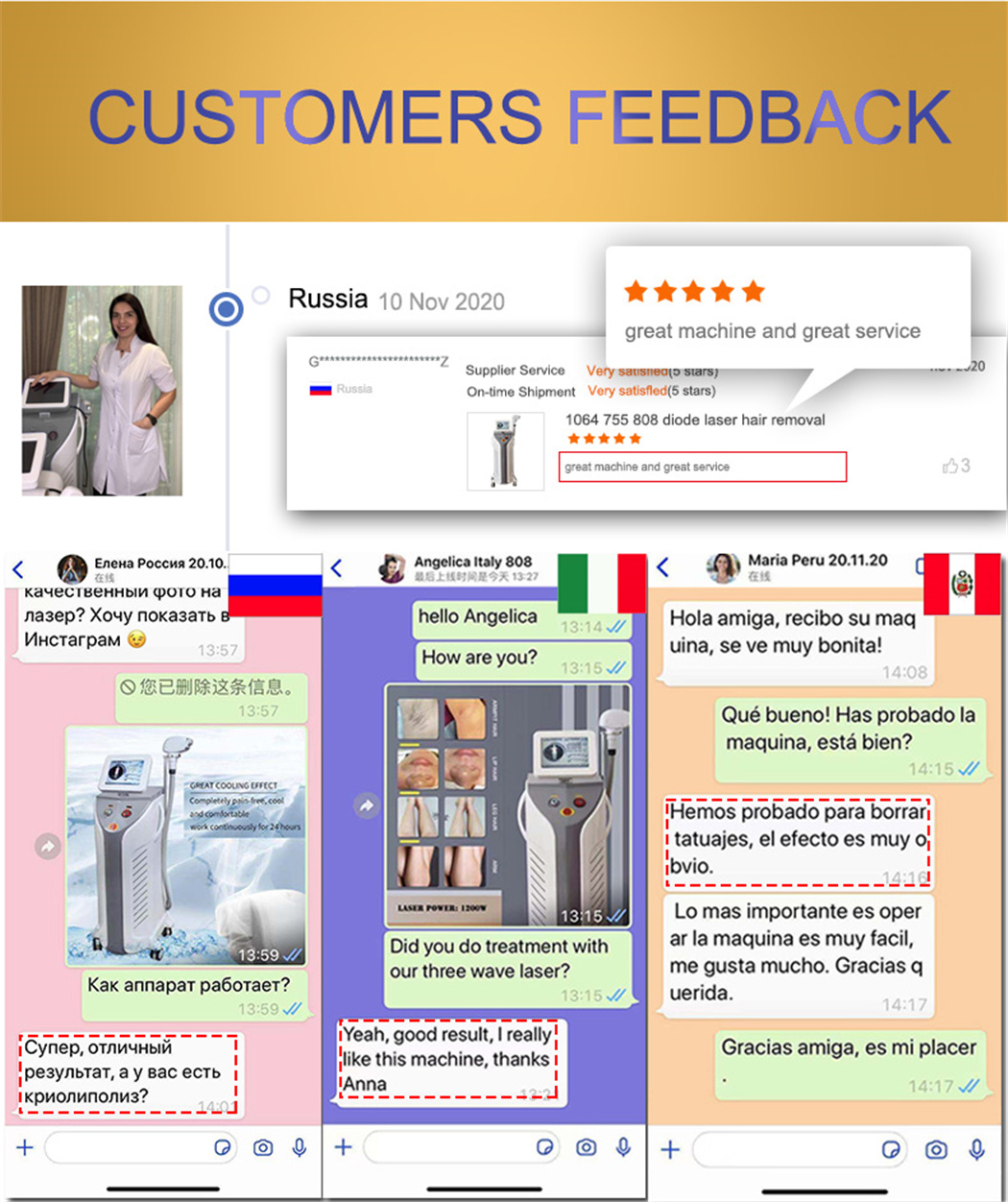 1. Precise constant temperature system to truly realize painless hair removal at freezing points 2. Using German JENOPTIK imported laser bar, the energy output is more uniform and stable 3. The best 808nm laser wavelength for various skin tones. Any part of the hair can achieve hair removal effect; 4. The A-level sapphire light-emitting window and the square spot design improve the utilization rate of light.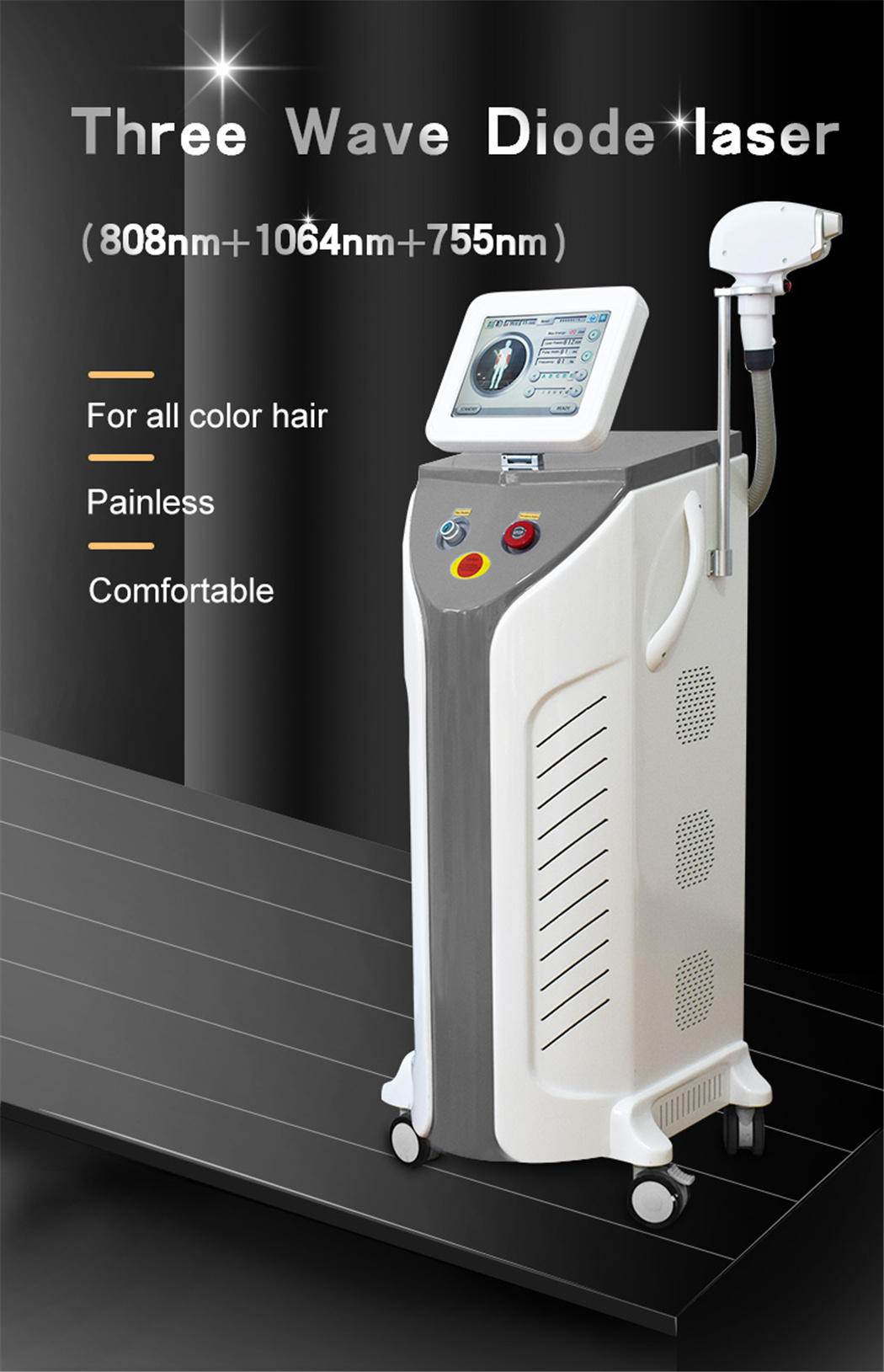 | | |
| --- | --- |
| Laser type | diode laser |
| Wavelength | 808+1064+755nm |
| Two spot size can be changed | 12*12mm or 12*20mm2 |
| Laser bars | Germany Jenoptik, 10 laser bars power 1000w |
|  Crystal | sapphire |
| Shot counts | 20,000,000 |
|  Pulse energy | 1-120j |
| Pulse frequency | 1-10hz |
|  Power | 3000w |
| Display | 10.4 dual color LCD screen |
|  Cooling system | water+air+semiconductor |
| Water tank capacity | 6L |
| Weight | 68kg |
| Package size | 63(D)*60(W)*126cm(H) |